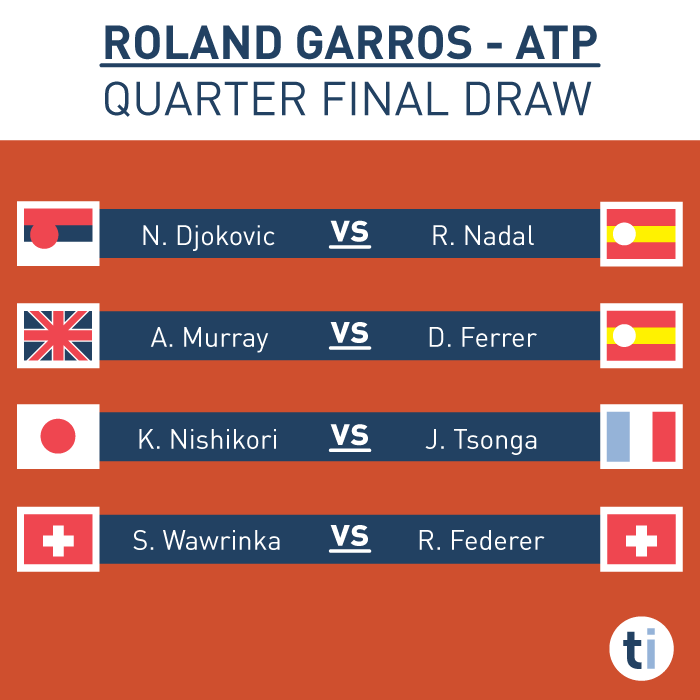 Quarter Finals are here and we are all in for a treat! The four biggest names in TENNIS are all still alive.
Well here we have it! The match that everyone anticipated since the Draw was officially made is happening on Wednesday. Nadal leads the H2H 23-20, but most importantly he has a 6-0 advantage on matches played at the French Open. He lost his first set of the tournament today versus the American Jack Sock. After serving for the match, probably some nerves kicked in, lost a bit of confidence in his shots and lost the 3rd set in a TB. He managed to regroup and Jack didn't have any chance in the 4-th. Back to using his old racket, after changing it for Barcelona and Monte Carlo, he looks better. Djokovic made quick work of Gasquet losing only 6 games and has looked pretty much unbeatable in the last 4 tournaments he played, winning all of them. He's been having a stellar year with only 2 losses to his record. Even when he was pushed in some matches he has showed amazing game and stability to get through. By far the match of the tournament and remains to be seen if Novak is the guy to double up Nadal's loss record and do what only one man has done, defeating him in his den. Nadal is a 3.30+ underdog by the opening lines of the bookies and I personally don't remember when was the last time the Spanish player was that high playing on dirt. 26 match winning streak and 14 on clay for the Serbian and the other side – 39 consecutive matches won in French Open for Nadal. This match is one for the record books.
Murray leads 9-6, but they haven't played on clay since 2012, a 4 set win for David in the French Open. This will be a very physically demanding matchup for both as they are known for taking time to construct points and would be interesting to see who will crack under pressure. Murray has already lost 2 sets this tournament, but against inform opponents – Joao Sousa and last one vs Jeremy Chardy where he was pushed hard by the Frenchman and the crowd support. He let only 6 chances for the whole match to Jeremy, but saved only 2 and won only 13 points more than his opponent. Ferrer will be looking to make one step further than last year, when he lost a QF match to Nadal, where he was competitive in only 1 of the sets. While talking to Mats Wilander he said he didn't feel his game to be great 2 days ago, but after today's show vs Marin Cilic he feels much better about himself heading to the clash vs Murray. Andy's undefeated clay streak is at 14 now, but his forehand and serve are not firing as much as they were in last weeks performances. Could this be the chance for David to make it to another semifinal?
Nishikori leads the h2h 5-1 but this will be their first meeting on Clay. The Japanese man will be on his first QF in Paris and has looked pretty solid from the back of the court and his defending has been spot on as well. Some may question his opponents getting here, including not playing R3 as Benjamin Becker gave a walkover. He did however hit 40 winners vs Gabashvili in the last round, who was playing really aggressive and with confidence coming into this matchup. Kei has played on very hostile environments where the crowd support was really involved in the match (ex. Vs Nadal in Madrid, Davis Cup match in Canada vs Raonic) so this shouldn't be an issue, as he is not looking entirely bothered by it. At age of 30, Tsonga returns again to the quarterfinals , last time was in 2013, and has looked really solid and scored an underdog win in his latest match – vs Berdych. This was the Czech's first loss of the season against a player outside top 10. He was serving for the match in S3 but got distracted a bit, suddenly dropping in confidence and got pushed to a TB, which Birdman won and was on a course to make it even more interesting, leading 3-1 in the 4-th. Jo found his groove again and surprisingly won 5 games in a row to take the match. Kei has been pretty solid, but Tsonga's offense is something to not take lightly.
19-th meeting between the two very good friends and compatriots. It should be a cracker of a match if both play to their potential, but with 16-2 in favour of Roger it's evident that his game simply doesn't suit Stan at all. I think it's much more than just 'choking' against him, Fed is able to bring down Stan's level with the variety of shots and the "mixing it up" he possesses. So far Stan has been going strong and at least covered the disappointment from last year's 1st round exit in the hands of Guilermo Garcia-Lopez, with a painfull 4-th set bagel. His highest ranked player faced this year was the 12-th seed Gilles Simon, but he brushed him aside in straights. Wawrinka will have a full day of rest more than Roger, as he was forced to play on consecutive days as his match vs Gael Monfils was postponed due to darkness with 1 set apiece. But I wouldn't read too much into this, as Roger very quickly wrapped up this match, as Gael was really out of it from the get go. Stan will need to bring his A game to the court to overcome the h2h and their most recent match in Rome, otherwise I see an easy win here for Federer.