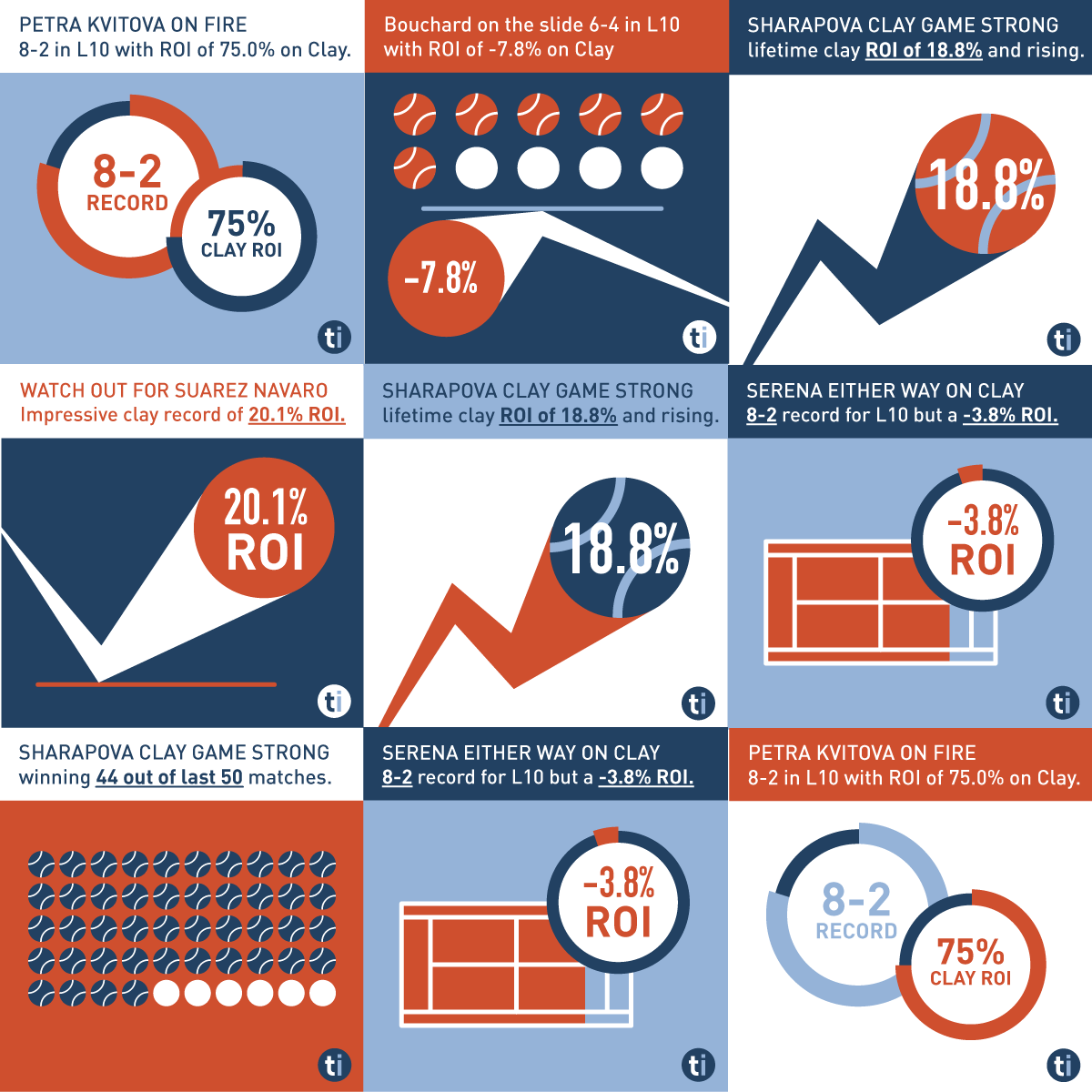 Today I look at the Top 10 women in the WTA rankings leading into Roland Garros.
Although the American didn't fare very well on the Clay tournaments that led up to Roland Garros we all know that her bread and butter is the Grand Slam tennis. This is where she excels and shows her real power and that she is willing to succeed by any means. Bit of concern with her withdrawal prior to her match against McHale in Rome last week due to an Elbow Injury. If she is healed and ready to go, she will bid for her 3rd RG title and erase the disappointment from last year, knocked out way too early – in R2 by the heavy hitting Garbine Muguruza. Serena's last 10 matches on clay reads 8-2 but only -3.8% in ROI.
After a bumpy start to her clay court campaign this year, losing to Kerber in Stuttgart and not managing to defend her title, Maria has taken big steps in the right direction in order to be in form to pursue another Roland Garros title. With SF in Madrid and winning Rome she has secured a #2 seed in the upcoming Grand Slam event, which means she will avoid Serena Williams until a possible final between the two. The Russian now has 9-1 record in her L10 matches with ROI of 14.1% and her stats on Clay are becoming more and more jaw dropping: 44-6 in L50 with ROI of 13.1% and with lifetime ROI record of 18.8% on the surface. Pair that with the current form she is in, it becomes clear that Maria Sharapova is once again the one to beat heading to the 2nd Grand Slam tournament of the year.
What was looking like a smooth ride for Simona in Rome last week – winning 3 matches and dropping just 6 games combined, her SF opponent Carla Suarez had other things in mind. The 24 year old Romanian showed frustration and lacked the ablity to deal with pressure at crucial points vs the Spaniard and a smooth set 1 winning became a 3 set frustrating loss. Losing that match means she will have the #3 seed for RG and a chance to go 1 step further from last year, where she dropped a decisive 3rd set in the Final to Maria Sharapova. Simona's well executed shots and great footwork should see her improve the -13.3% ROI she is currently holding over the course of her L10 clay matches.
It has been a strange year for Petra so far, deciding to skip Indian Wells and Miami due to tiredness and fatigue and as she described it – ''feeling empty''. She returned with clear mind and a renewed hunger, in the Fed Cup SF vs France at home and scoring 2 wins vs Garcia and Mladenovic. The tie was played on indoor hard court and the quick transition to Clay on the following week in Stuttgart didn't go as smoothly as was hoped. Losing to Brengle in straight sets was quickly forgotten a week later when she beat Serena Williams in the SF and Kuznetsova in the final for her 2nd Madrid title (previously won in 2011). She is a force to reckon with, already making it to Roland Garros SF once (in 2012) and energized again she surely has more room to improve.
With her strong defence, shot selection and footwork one would assume that Wozniacki would have done better than 1 QF appearance in 8 showings in Paris. Final in Stuttgart defeating Halep in SF and QF in Madrid lost in tight 3 sets to Sharapova showed some promise that she would be more competitive in Roland Garros than her previous appearances. Her Last 10 matches she has made a good +12.9% ROI and with adding Arantxa Sanchez Vicario to her coach corner she is looking to improve lots of numbers before the Grass season starts.
Probably the story of the year so far, and not necessarily a good one. Adding Vika Azarenka's previous coach – Sam Sumyk in the offseason in order to make the next step in her development showed a good start with her deep run into Australian Open's QF. But that was quickly overshadowed by weak matches and losing 6 matches in a row at one point. She has made a really poor -46.6% ROI taking into account her L10 matches. She still stands at No.6 in the overall rankings, but her point total for 2015 is only enough for No.35 so far. Winning just 1 match on clay in 2015 surely doesn't sound good for trying to defend SF points from last year's Roland Garros. The decision to skip defending her Nurnberg's title and get more matches just before the GS tournament start looks a bit strange as well. She is in need of some new found motivation and results quick in order to keep her position in the top 10 by the end of the clay court season.
Coachless now Ana Ivanovic is still searching to find her form and she needs to do it fast as Roland Garros is just around the corner. Her year has been quite poor by the Serbian's standards and her ranking of no.7 doesn't show the whole picture so far, as she sits on no.25 for the 2015 accomplishments alone. Once a winner on the Paris clay and ex number 1 in 2008, her Clay record this year has been far from what she has done in the past on that surface. Losing 1st round in Stuttgart to Garcia was almost the beginning of a losing streak when she was down a set and a break a week later in Madrid to Dulgheru but survived. Rome saw her dropping a close and long one vs Gavrilova. Her -36 % ROI in her L10 matches makes it hard to be trusted or in other words good to be opposed until she proves otherwise.
Losing 1st round in Australian Open raised some questions about Carla's year early, but if we take that little bummer out of the way her performances in 2015 are absolutely amazing! She has already competed in 11 tournaments and has managed to get to QF in 10 of them, including 3 Finals with the most recent one just last week – in Rome. Taking out 3 top 10 players and was close to a 4th one, but Maria Sharapova won in 3 sets. Carla's stats in the course of her last 50 matches played shows impressive +28.6% ROI and with just a bit of a drop her clay court tournaments she is +20.1%. With 2 QF in Roland Garros in the past including last year, she looks again poised for a deep run to at least QF, and why not even further?
Australian Open's SF appearance propelled Makarova even deeper into the top 10, but since then results have been quite disappointing for the Russian. Even though she has had good results on Clay in the past, hard courts and even Grass ones remain her preferable surfaces. Some of her recent bad results may be put onto the fact she faces great opposition – Kerber in Stuttgart (losing to eventual winner of the tournament is not that bad) and Kuznetsova in Madrid. She is -24.6% ROI in her last 10 matches on Clay and with making it only once as far as the 4th round from 7 tries at Roland Garros she seems like a good option to be opposed against and an even weaker opposition in the early rounds.
Big 2 weeks ahead for Andrea Petkovic as she will try to defend her 720 points from making it to Roland Garros semis last year. Recent withdrawal from Madrid due to stomach flu stopped what could have been another good tournament for the German as she already defeated Flavia Pennetta with some nice ground strokes and steady footwork in R1. But wasn't meant to be, the same Illness forced her out of Rome as well. She was taking part in this week's Nurnberg's clay tournament and was looking for final chance for preparation but retired late in the 1st set vs Putintseva with a thigh injury. Clay is the surface she has won on the most and if she is completely healthy she could be likely to make it deep in Paris once again, but for now this looks to be put on hold.