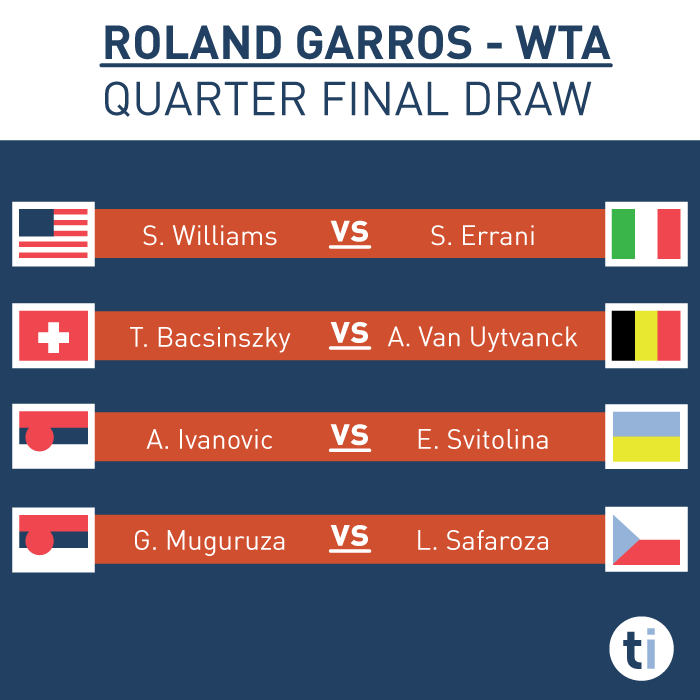 Surprise, surprise! Despite the Women's side delivering a fair amount of unpredictability and surprises, it's good to see different names making it further in the Grand Stage.
Serena has fought really hard to get to this point in the tournament and with the rest of the players that are left, is quite safe to say she is a really big favourite to not only to win this match against Errani, but the title as well. Serena was down a set and 4-5 in the second vs Sloane Stephens , but on serve, and succeeded a remarkable turnaround once again to win 1-6, 7-5, 6-3. Williams finished again with lot of UE (43) but picked herself up when it mattered most. That was the American's 3rd match in a row that went the distance from the 4 she has already played so far. Her next opponent is the short and mobile Sara Errani, who she leads 8-0 with only 2 dropped sets. Their recent match though which came in Fed Cup this year was the closest that the both have had. Sara defeated Petkovic in the 2nd round here a year after she was beaten by the German in the QF. But this is a much bigger test. Despite her variety of shots and thinking on the court her style just doesn't match the American's and her no pace game and very slow serves often get her in trouble against more precise and not overly aggressive opponents. She made only 5 winners and 3 unforced errors against Julia Goerges in the R4 win while the German generated too much pace by herself and ended up with 45 UE in just 2 sets of play. It is usually the case that Serena is fighting Serena on the court and these 2 weeks have been no exception. When she is on, she is really hard to stop and this seems at first glance as a good opportunity for the American to have a less complicated match than her previous ones.
In a matchup that was labeled by me as the greatest opportunity that one of the girls will have to reach the QF at a Slam, Alison took down the Romanian Mitu in a solid display of power and accuracy with a 6-3, 6-1 win. Fresh blood for the Belgian female tennis as Wickamyer hit a tough stretch in her career, due mainly by injuries, and to have this country on the map again on the female side of the game is really great to see. Alison will crack top 50 with her performance so far and now has an opportunity to go further into the 2nd week of a Slam. She has fought hard to get to this level in her career as she was not helped by WCs around so she had to fight through Q and ITFs to get to the position she is in now. Without taking away anything from the Belgian's performances to get this far, this section of the draw has been crazy, not having to face a top 30 player in first 4 rounds despite being unseeded and 93-rd in the world. It will be a fight versus the 24th ranked Timea for a palce in the SF. Bacsinszky scored an upset with a come from behind win, against soon to be the new No.2 – Petra Kvitova. A disappointing performance from the Czech as she made 41 UE and was looking a step late on many rallies, but Timea made her run a lot and question where the next ball would be hit. Odds opened with Timea being an absolute fav, but you can't count out Van Uytvanck. The first meeting between the two and a huge chance yet again for both to leave a mark in RG history.
First time Ana has made it this far since winning her one and only GS title right here in Paris in 2008. And has even bigger chance to make it to the Semifinals here as she faces Svitolina, a player she has dominated with a 6-0 h2h record with only 1 lost set. She has improved confidence and her shots are once again leaving a mark. She still has lapses in her game as a whole, and her performance in this edition of RG can't be judged entirely as she faced only 1 top 20 player – Makarova, who is not known for her clay court records. Despite that she shows belief and a bit of more mental stability in order to take close matches – see Misaki Doi and Katya. Best GS performance in Elina's young career even if she loses this match. Only her 1st round match vs Wickmayer proved to be easy as the others have gone the distance and needed great effort to be able to get through. She has also crushed home girl Alize Cornet in 2 tight sets in her last match. The 20-year old's steady progress continues as she is projected to be no.16-18 depending on Timea and Garbine results. Both riding high at the moment, as they have battled very hard to get this far and that improved belief can do wonders. H2H may be one sided, but Elina looks at least on paper in a position to trouble the Serbian much more than the odds suggest.
Lucie made one of the biggest shocks in RG by defeating Maria Sharapova in straight sets in the 1/8 Finals. She showed composure and calmness in the tight moments and was able to dictate the match with her lefty serve and great angles which forced Maria out of her comfort zone. Now part of top 10 from Monday for the first time in her career she will look to match her SF appearance in Wimbledon as her best result in a Grand Slam. Garbine is gradually developing a relationship with RG, as she came here with varied form and was looking vulnerable to defend her QF from last year. She however faced a challenge in Kerber, which she defeated from a set down and vs Pennetta where she was down a break in both sets – notably 1-4 in the 2nd but won 5 games in a row and closed the match. They haven't met before and this will come down to who dictates the game more, as both don't like to be pushed around on the court. Garbine already faced a leftie in Kerber so she looks ready in at least that department to make her first SF of her career, but won't be an easy task. Bookies have put this match even in odds and personally I can't blame them one bit.