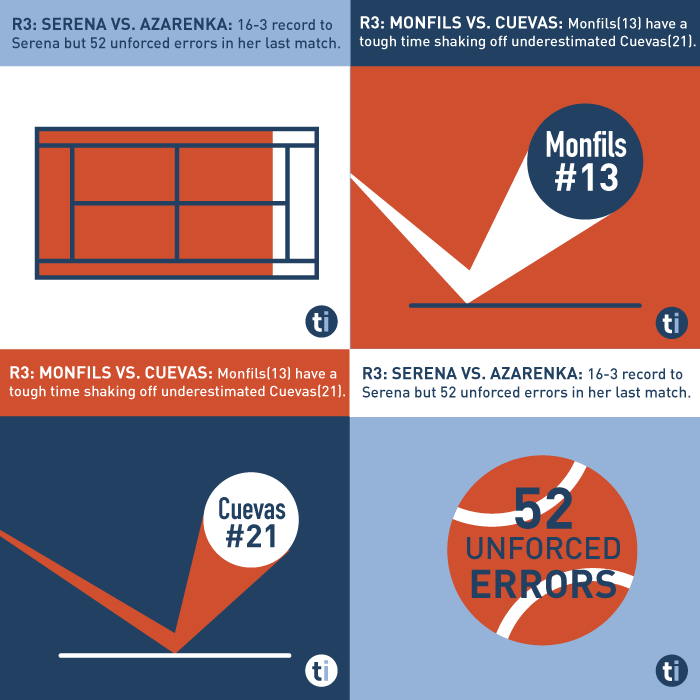 Round 3 starts today and the Seeds finally start to meet up, for those who survived the massacres of the first two rounds…
This is probably the most intriguing match from the 3rd round in both Men and Women. These two have already met on 19 occasions and Serena has commanding 16-3 lead, but their last meeting in Madrid was nothing short than amazing! Vika had 3 MP and on serve to close it out, but late collapse, DF bug and the 'never say die' attitude of Serena forced the match to a deciding Tie Breaker where The American was simply flawless and took away the win. Unexpectedly, Serena had all sorts of problems with 103rd ranked Friedsam and was forced to come from behind to advance. She will need a better effort than her performance of 53 Unforced errors vs. The Belarussian in order to take her out. Azarenka has had no troubles and smooth sailing so far with wins over Torro-Flor and Lucie Hradecka where they were both expected to be close matches. Many think that she has some kind of mental block while playing Serena as she simply can't close when she has the lead, she came close in Rome, and can she win this time in Paris?
These two players have shown a great amount of progress from the start of the year and will surely be toe to toe for a place in the 4th round. Timea made her breakthrough with 2 titles in a row in Mexico on hard court while Madison's Australian Open SF match vs. Serena Williams moved her ranking a big leap forward. If we take away Madison's great play on the Green Clay in Charleston, where she lost a nail biter to Angelique Kerber in the Final, both players have struggled on the European clay. In recent interviews Keys has shared that she's still trying to find her way on the red clay, as the green in US is much faster and suits her game more. She is feeling more confident this year than in previous ones, but still has a lot to learn. This will be their first meeting and with very different playing styles one a good defender and the other highly aggressive this should be really fun for the viewers.
QF a year ago taking out No.1 Serena and then losing a close 3 setter to Maria Sharapova in the QF, Garbine hasn't been that impressive this clay court season to say the least. With no consecutive wins before coming here to Paris it's questionable whether she will be able to defend her points. Kerber on other hand has won two titles in a 3 week span – Charleston , then to Sochi to play for Fed Cup vs. Russia and then the Stuttgart title taking out the defending champion Sharapova in the process. After that she didn't show much more on the Premier events, but it was probably due to the fatigue she was carrying from so many matches in such a short span of time. Kerber has won their previous 3 meetings with only 1 dropped set, but all of those came on hard courts. With this as their first match on clay and with so much at stake, who's nerves will crack first?
Always exciting and fun to watch, Gael has been forced to work hard so far to secure his place in the 3rd round here. Pushed to 4 sets by compatriot Vasselin and most notably to 5 by the short but very mobile Diego Schwartzmann in R2, with multiple QF appearances and a SF on home soil Monfils always digs deep to play on high level. He has been part of many great matches in the previous years here at RG. The streaky and dirt loving Uruguayan Cuevas played a very exhausting match last round, but managed to take out the very in-form Dominic Thiem in tight 4 setter which I wrote about in the previous 'Racket' post. Bookies underestimate Pablo a bit in my opinion, and I expect another close battle as the South American can definitely grind out from the back of the court. 3 of 5 format I think Gael will have enough trouble to get him away.
Very impressed with Coric's ablity to take out Tommy Robredo in his R2 match. His composure in the hardest moments of the match when he was a break down in the decider, yet still managed to pull it through, shows true belief in his own abilities and standing his ground. Already in top 50 as a 19-year old the future is bright as he now faces another talented but slightly older opponent – Jack Sock. Sock shocked many with his straight set win over World No.11 Grigor Dimitrov in R1. The Bulgarian completely lost the plot after a very close S1 tiebreak, but its worth mentioning that the perfectly timed big serves surely helped the American in the process. He followed that win with an exhausting 4 set one over Carreno Busta. Jack's backhand will be under heavy pressure as this is his obvious weakness and Borna has shown that he can't be put away that easily. This could become a really intense and long match and I'm not completely sure why the bookies see Sock as that big of a favourite.