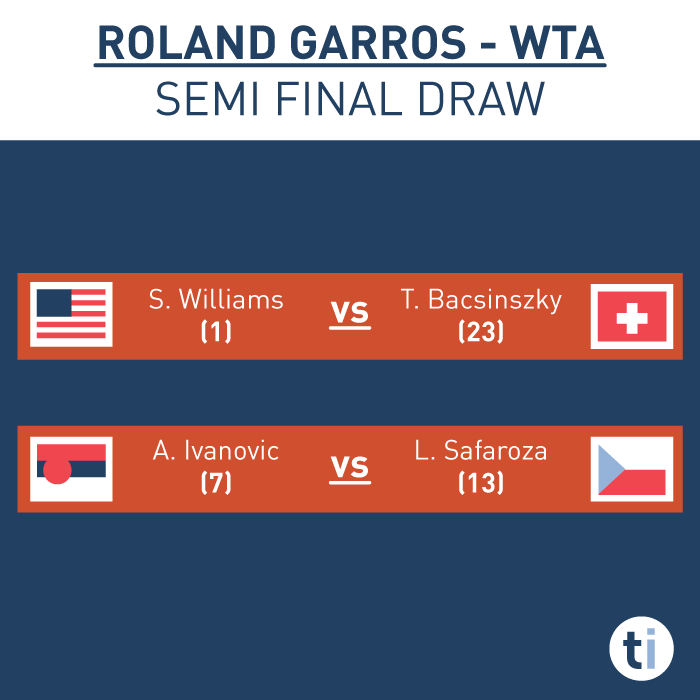 Women's Semifinals is the theme for Thursday in Paris.
(1) Serena Williams v (23) Timea Bacsinszky
Timea's great form these 2 weeks continued with a straight sets win over another surprising participant in the latter stages in a GS tournament – Alison Van Uytvanck. Timea hit 39 winners from which 26 came from her backhand, and from that wing she completely dominated the Belgian. This is the first time a Swiss player has made it into a GS SF since Patty Schnyder in Australian Open 2004. Alison didn't play bad at all, she was lacking a good game plan and hitting constantly to Timea's backhand was not smart. The Swiss is now in the semifinals for the first time in her career and projected to jump to No.15 from 24 in the provisional rankings. If she somehow wins this very difficult match right here she will enter the top 10. However, Bacsinszky will be facing her biggest challenge so far, 19 time Grand Slam Champion – Serena Williams. Despite the American's up and down campaign, overcoming opponents from set down 3 rounds in a row, it was a much smoother ride this time against Sara Errani in the QF – winning in just over an hour. Despite having a 8-0 H2H lead, Serena knew she had to pay attention to the crafty Italian.
"The last four French Opens in a row she's been to the quarterfinals or better, so I knew I had to be really focused today," Williams said. "She does so well here, and she really fights for every point. I wasn't able to serve well in my first couple of matches here because I hurt my arm in Madrid, and in Rome I had to pull out. In my first few matches I thought maybe I shouldn't serve too big, but now I'm feeling a little better. It's obviously a big part of my game – I really missed it a lot." Asked about a comment for her upcoming clash with Timea, Serena said – "She's a good player, what I think about most when I think of her is she's a major fighter. You can have a match point, be up a set, and she's not going to give up. And she's had a really good year – so I have to come out strong again, I need to relax, and just do the best that I can do. I'm not putting too much pressure on myself. I'm surprised I'm still in the tournament."
Interesting clash and personally I will be curious to see how the Swiss will react and if her nerves kick in at any point. They have met 2 times so far and Serena won both in straight sets. So far Timea hasn't looked pressured about the position she currently finds herself in. This is Serena's usual place and boasting an impressive 23-3 in semifinals in Grand Slams she will be harder to beat now than she might have been in earlier rounds.
(7) Ana Ivanovic v (13) Lucie Safarova
Ana is back in the semifinals in a grand slam for the first time in 7 years, and it happens to be in the same tournament she has won her only title from that point to date. Nice to see Ivanovic back and in good form once again after her bad results in the last couple of months, hardly winning 3 matches in a row. She has improved her game a lot and her forehand is firing as best as I have seen for years. Her improved confidence was demonstrated in her match versus Makarova in the Round of 16s. She then continued and dismissed Elina Svitolina with powerful groundstrokes and dictated all things that happened on the court.
This is a chance for revenge now for Ivanovic, as she faces a familiar opponent, the one she was beaten by in last year's Roland Garros edition – Lucie Safarova.
"She's a great player. She showed that many times," Ivanovic said, while asked about her coming match vs Lucie. "She had a great match against Maria, and she won Doha beating Azarenka. She's had so many Top 10 or Top 5 victories. And last year I lost in straight sets to her here. She's doing great, and she obviously deserves her spot here. So it's going to be a tough match-up for me. And I really want to focus on it."
The Czech has been working with Canadian coach Rob Steckley in hopes of making a continued impact on both the singles and doubles court since the beginning of 2014. They have put a top 10 rank as a milestone for their relationship. Although that didn't happen last year, they will achieve that from Monday. The leftie has been nothing short of sensational in the tournament so far. After defeating the defending champion Maria Sharapova she continued with no letdown to dismiss a hard hitting and tough to break Garbine Muguruza. She counter attacked and pushed the Spaniard to the limit.
Head 2 head is 5-3 for Safarova, 1-1 on Clay, but interestingly 3 of the last 4 meetings the underdog has won. Ana has had stellar a record playing on Philippe Chatrier court. Will we see more of the same tomorrow, or will the lefty Czech make it to her first Grand Slam final?