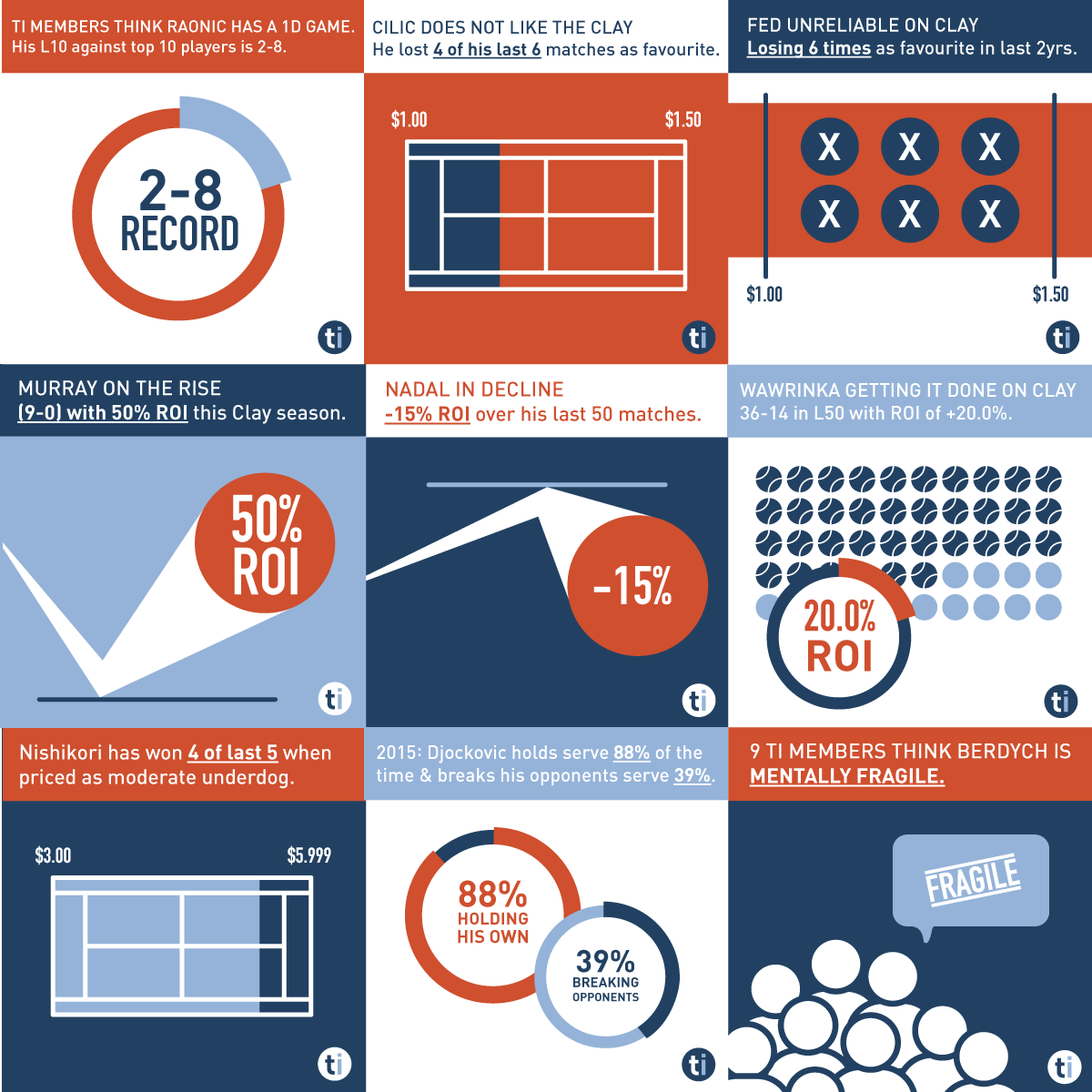 How is your favourite shaping up for Roland Garros? This week on The Racket I break down each player's chances starting with the Men top 10.
This could be the year Novak Djokovic hears the roar of the Roland Garros crowd as he lifts La Coupe des Mousquetaires. Winning Rome last weekend was Djokovic's second title of the year on clay, a feat he's accomplished on the surface only one other time in 2011 when he won three out of the ATP's four slams. The French was the only exception that year, but his recent overall success, especially against Nadal, has made him the bookies favourite for Roland Garros. Based on his performances in the build up to Roland Garros, Djokovic could be in the best position of his already stellar career. Undefeated in his last 4 tournaments, a 14-1 record vs top 10 ranked players and on a current 22 match winning streak, it looks like a promising recipe for success in France.
Roger Federer already has what Novak Djokovic desires: a French Open title. Yet, among his 17 Grand Slam titles only one of them is French. Given his three-year Grand Slam title drought, Federer would be ecstatic about any Slam win, and the RG would be doubly sweet. His only bummer this year in his preparation for RG came in the form of an inspired teenager Nick Kyrgios who registered a thrilling and entertaining win over the Maestro in Madrid. In Rome he made it to the final, but was beaten in straight sets by Djokovic. This year is shaping up to be perhaps Federer's last decent chance to pull it off with Nadal looking as vulnerable as ever and neither Djokovic or Murray having ever taken the title. Despite the lack of form the Spaniard is showing this year, his 2 wins in 15 meetings with Nadal on clay still casts a shadow of doubt should an eventual meeting occur.
With 2 clay court titles already under his belt – Munich and especially winning Madrid where he defeated 3 top 10 players in consecutive matches he makes a strong statement as the one to watch on the clay in Paris. Andy's 9-1 record In L10 matches and an ROI of +66% surely deserves a mention as well as being undefeated on the dirt in 2015. His Roland Garros history presents twice as a semifinalist in France, but he was defeated on both occasions by Rafael Nadal without taking a set. He has had great preparation and managed to beat some quality opposition in the recent weeks and it looks like a safe bet that he will make it further again in the French capital.
Now with his best personal ranking at #4 Tomas Berdych is probably one of the most consistent players on tour so far in 2015. He has played in 9 tournaments this year and has made it to the SF in 7 of them. He hasn't lost to a player outside the top 10. No matter the surface the Czech delivers strong performances, but something is still missing to make the next and needed step and challenge those that are in front of him in the rankings. He lost to Gulbis last year in QF of Roland Garros and his best result dates back to 2010 when he made it to SF. His consistency this year shows he is more than prepared to make that next step, but will he make it? Or will one of the big guys will cut it short once again?
The 25-year-old samurai says he's changed his game on clay, becoming more aggressive and going for more on his serve and return In order to try to win his maiden GS title in the upcoming Roland Garros. Nishikori is working with one of his longtime coaches, Dante Bottini and Michael Chang also joined him in Madrid where he lost a SF to Andy Murray. His Rome adventures were cut short in the QF by world Number 1 Novak Djokovic. His quickness and shot selection is one of the best, and Kei will look to go deeper as injuries took its toll last year with a 1st round straight set loss to Martin Klizan. He could be a major threat, but his fitness will be in question over the course of the 2 week event.
Milos Raonic is still in doubt for the upcoming Roland Garros. He appeared to be troubled by his foot during his quarter-final defeat by Andy Murray at the Madrid Masters, although he managed to complete the match. The injury first surfaced shortly before the Monte Carlo Masters where Raonic withdrew before his quarter-final against Tomas Berdych and he could not compete in Barcelona. His spokesman, Austin Nunn, said there was no structural damage but he had to go through surgery to repair a nerve in his right foot and because of the procedure he couldn't participate in Rome. He lost to Djokovic in the QF last year and so far looks vulnerable, to say the least. It could be a repeat perfomance, be cautious if he doesn't withdraw.
Rafael Nadal is entering unfamiliar territory. After losing to Stan Wawrinka in straight sets Friday night in the quarter-finals of the Internazionali BNL d'Italia, the Spaniard's seeding fate in Paris was sealed: He will be seeded no higher than seventh at Roland Garros, where he will attempt to win his tenth title. This is the first time in 10 years that Nadal has not won a European ATP World Tour clay-court title in the lead-up to Roland Garros. This drought raises many questions and doubts, but it remains to be seen if someone can impact his 66-1 record in Paris in a way that only Robin Soderling did.
33 year old David Ferrer has once again put on a great year and has won 2 titles so far – Acapulco and Rio de Janeiro in February. He has only 1 loss against a lower ranked player in 4 tournaments played on the current clay court swing (loss to Andujar in Barcelona) and has made it to at least the QF in all of them. Always relentless and never getting tired, David is a nightmare especially in 3 of 5 sets on clay. He has the QF to defend from last year and in the past the hurdle he and many others just can't pass is called Rafael Nadal, losing on 3 occasions to him. His consistency and the way he engages his opponents into a choke hold and forces them into long rallies on every point makes him a good betting option. This is especially so in the early rounds as he often loses only to the very few that are higher in the rankings than him.
Since winning the Rotterdam title in early February, the furthest Wawrinka has gone in any competition were the quarterfinals in Marseille. He has slipped from third place on the world rankings to 9th and in April his management company StarWing Sports released a statement to announce the split. He has been hit with personal issues – splitting with his wife which may or may not have had effect on his performances as he failed to defend his Monte Carlo title from last year, beaten soundly by Grigor Dimitrov in R2. Everything seemed to go from bad to worse with his early exit in Madrid the following week. But along came Rome, winning against Monaco from set down in R1 gave the Swiss the much needed motivation as he continued by scoring a straight set win vs Rafael Nadal in the QF. Roger Federer proved to be too much for him in the SF. It seems he has nothing to lose in the upcoming Grand Slam in Paris, he will look to turn his fortunes from a R1 loss last year and show that he was no one-hit-wonder from the 2013 QF.
Marin Cilic is playing in his sixth tournament of the season this week in Geneva since returning from a right shoulder injury, which kept him sidelined for the first two months. This is his last chance to get some match practice before the French Open where he has only 90 points to defend from 2014. Marin has a 3-5 record for the year with his best result coming last month at Masters 1000 in Monte-Carlo, when he reached the quarter-finals (d. F. Mayer, Tsonga, l. to Djokovic). His ranking is relying only upon his US Open title from last year and although clay is by far his least favourite surface he needs his old form back in order to feel much better for the upcoming Grass season where his serve and groundstrokes will have bigger effect.