charleswbg

Sweden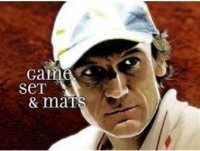 About

\\\"Heroes in tennis have one thing in common: they project the impression that they have standards, personal convictions and attitudes that they will not violate for the sake of winning a tennis match...By winning the French Open, Wilander established himself as the top player for the first half of 1988. He is the closest thing we have today to a tennis hero, falling short of being so acknowledged because he has yet to win Wimbledon or the U.S. Open.* But he is grace under pressure personified, wins consistently, plays his best in big finals, and possesses high standards. If Wilander lacks anything, it is the touch of arrogance - the aloofness of Borg, or the conspicuous pride of Laver. It is only nominally a deficiency. (Extract from article by Peter Bodo, published in TENNIS, August 1988)(*just one month before Mats did in fact win the U.S. Open)

Favourite Players

Caroline Wozniacki, Stanislas Wavrinka, Simona Halep, David Ferrer, Johanna Larsson, Andy Murray, Bethanie Mattek-Sands,
Tip Summary: 50.00% (26/52) in last 3 months | 46.55% (27/58) in last year | 51.83% (184/355) all time
Earnings Summary: -$1,785.10 in last 3 months | -$5,887.10 in last year | -$2,037.48 all time
ROI Summary: -6.3% in last 3 months ($28,500.00 turnover) | -16.1% in last year ($36,500.00 turnover) | -1.4% all time ($141,538.00 turnover)
Contribute Your Insight and see full comments from others - All you need is to be
Registered
and
Logged in
- then simply click on the relevant Match, Player or Tournament and start sharing Your Insight!